Sales 2021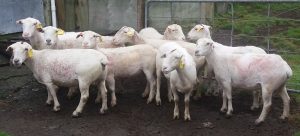 commercial ewes for auction Taranaki Ewe Fair Stratford 20/01/21
We will have a total of 26 x 5 and 6year old ewes for sale which have been  inspected by breed inspector Kevin Carr. 16 have been evaluated as stud and 10 others are assessed as commercial. All can be registered if the buyer joins the Dorper Breed Society. We can transfer ewes over then. The ewes photos are taken in their respective groups. They will up for auction at the Taranaki Ewe Fair in Stratford on Wednesday 20th January 2021.
We have just two 16month old rams left for sale, 99/19 and 118/19, both twins. Their price is $600.00 + GST.
At the end of February 2021 we will have hogget rams for sale when we have their SIL eye muscle and FEC data also their individual skin thickness results. This crop of hogget rams will include sons of Etiwanda 160613 whose photo is on our sires page. There are also sons of Bellevue 180764 and Bellevue 180314 chosen and bought by Etiwanda stud. Also Etiwanda 182514 and Etiwanda 182177 top  rams proven on Australian Lambplan.
We have the largest stud of White Dorper  in New Zealand so we can give you the best pick. White Dorpers can breed all year round and can have three crops of lambs in two years.
White Dorpers are the best breed for farming through droughts. Etiwanda stud in western NSW had just 170 mls for the whole of 2019. They weaned their lambs at four months. They averaged 36kg  with no supplements.
We can provide free cartage to Mokau for our Waikato and King Country buyers. Otorohanga transport can deliver to all northern New Zealand.
We can also provide free cartage to Feilding for our eastern and southern north island  and south island buyers.We can meet in Feilding with Tullochs or other nominated South Island transport operators for South Island buyers.